Waited For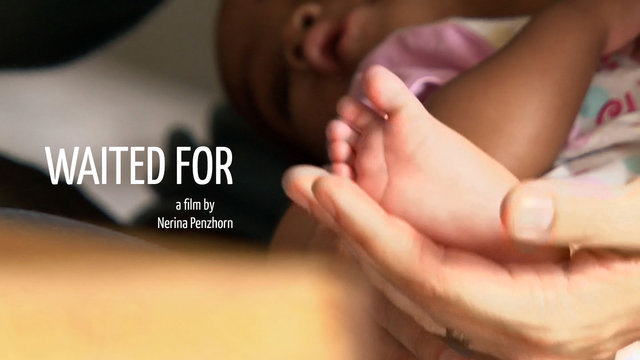 ---
Year: 2011
Language: English
Directed by: Nerina Penzhorn
Nerina Penzhorn was raised in South Africa and received her B.A. from the University of Cape
Town. Not long after graduation, she travelled to the USA and ended up staying. In Los
Angeles she worked for OUTFEST, the Los Angeles Gay and Lesbian Film Festival, and started
her career in television and film. Nerina now resides in New York where she works as a
freelance editor and producer. She also teaches video production at The New School in New
York City. Her short films have played at film festivals worldwide. She was delighted to go back
to South Africa to make 'Waited For' her first feature documentary.
Synopsis:
South Africa has a most advanced constitution, it promulgates equal rights for all. Despite this
progress, when it comes to adoption – lesbian couples are at the bottom of the priority list.
Waited For weaves three personal stories of adoption. Inter-racial couple Kelly and Leigh-Ann
embark on the journey to adopt a baby. For a year they let old-fashioned socialcrats vet their
house, relationship and cultural sensitivities, and wait for the phone to ring. New Zealander Pip
and South African Lee have two adopted daughters that have introduced more pink in to their
lives than they were anticipating. Pip views New Zealand as an escape route, but Lee is not
convinced and wants the girls to grow up in South Africa. Single mother, builder and recovering
addict Paula trusts that the multiracial environment she has raised her 2-year old in won't turn
him into a "coconut". Gentle and thoughtful, personal, yet quietly political, the film plots the
various stages of the process, and the five mothers discuss their fears, joys, frustrations and
expectations of adoptive motherhood in "post-race" South Africa.
Screenings:
• Athens International Film Festival 2011
• Frameline 2011
• Out Takes New Zealand 2011
• Out in Africa South Africa 2011
• Austin Gay and Lesbian Film Festival 2011
• DocUtah 2011
• Montreal Black film festival 2011,
• Edinburgh African Film Festival 2011
• Africa in the Picture Amsterdam 2011,
• Durban Gay and Lesbian Film Festival 2011
• Nigah Queerfest Delhi 2011
• DCTV presents 2012 (Downtown Community Television New York)
• BFI London Lesbian and Gay Film Festival 2012
• Helsinki African Film Festival 2012
• Film Africa London 2012,
• Cineffable Paris 2012