Jamie and Jessie Are Not Together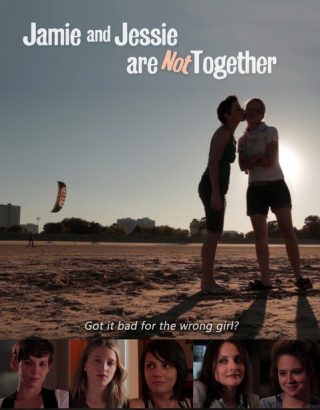 ---
Year: 2011
Running Time: 95 mins
Language: English
Stars: Jacqui Jackson, Jessica London-Shields, Fawzia Mirza
Written and Directed by: Wendy Jo Carlton
Storyline:
Jamie is moving from Chicago to New York hoping to become a Broadway actress. Her best friend Jessica is in a panic, because she thinks she is in love with Jamie. As moving day gets closer, Jessica tries to make Jamie jealous by dating other women. Jamie starts to see Jessie in a different light just as Jessica's plan backfires, in a way she could never imagine.
Jamie and Jessie Are Not Together is about two queer girls whose codependent, loyal friendship is fraught with erotic tension. As they struggle with the gray areas of love and lust, Jamie and Jessie must figure out either how to grow together or how to grow apart.
Queer audiences and indie film lovers are hungry for movies that reflect our lives in all their complexity. Jamie and Jessie Are Not Together is a sexy, entertaining romp of a movie with broad appeal, exploring universal themes of jealousy, insecurity, and falling in and out of love, taking inspiration from indie films like Show Me Love, 500 Days of Summer andLost in Translation.
This refreshing sexy film features Jacqui Jackson and Jessica London-Shields along with Fawzia Mirza, Marika Engelhardt, Sienna Harris, Jen LaForte, and stellar supporting cast!

Reviews:
"Makes resonant points about the fine line between admiration and love." -LA Weekly
"Charmingly written and acted this indie makes splendid use of the Lake Michigan setting." -Roger Ebert
"A charming lesbian musical that is queer in every way, and wholly to its benefit." -Michael Phillips (Chicago Tribune)
"One of the most delightful films I've seen this year, it sparkles and charms from the first moment." -L.A. Edge
"A romantic comedy that defies expectations left and right, this is one of the funniest, most original films of the year." -Afterellen.com >>read more