The Importance of Being Bianca
by
TheLinster
All My Children's first gay character was not Bianca Montgomery.
In 1983, Dr. Lynn Carson (Donna Pescow) told a patient that she was a lesbian. That was just about all the story we got about the doctor's sexuality, but it was historic nonetheless, since she was the first LGBT character ever on a soap opera.
Bianca, however, was a central character — a Kane woman, no less. And despite the fact that her relationship history has been less than stellar, thanks to some ill conceived storylines, Bianca has never questioned her sexual orientation since coming out in 2000. And she still is one of the most beloved characters in soaps.
Since All My Children is going off the air September 23 and we aren't sure at this point what characters will continue when the series goes online next year, this seems a good time to salute the woman who maintained Bianca's consistency through most of her gay life: Eden Riegel.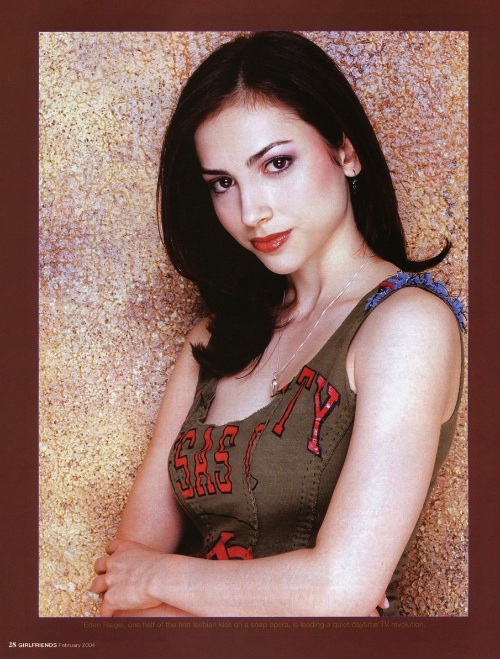 Riegel wanted to act as a child; her brother appeared in a production of Oliver! and little sis got the bug. She was fairly successful in theater — playing both boys and girls — but as a teenager Riegel decided to focus on her studies and leave acting. Apparently, she was as good at that as she was at the theater; she ended up at Harvard with plans to go to law school.
She still did some musical performing and was a member of The Radcliffe Pitches acapella group, which is how she caught the eye of a casting director who asked her to audition for the role of Erika Kane's daughter (replacing Lacy Chabert) and, to her surprise, she got the part.
Riegel nearly turned it down because she appearing on a soap opera was not her idea of "real" acting. But her parents encouraged her to go for it. Thank you, Lenore and Kurt Riegel. I suspect that Eden made at least as much social impact as she would have as a lawyer by playing a highly visible character with unwavering integrity who happened to be a lesbian.
In fact, Riegel herself had a lot to do with Bianca's coming out story. Eden sought advice from her lesbian older sister Tatiana to make sure the story was accurate and avoided gay stereotypes. Eden asked the writers to make sure Bianca was more than a token lesbian, with stories not related just to her sexual orientation.
Agnes Nixon was at the helm then, and was determined that Erica's response be true to the experiences of real mothers when their daughters come out. Nixon took clues from Family Outing, Chastity Bono's coming out story (this was well before Bono realized her gender identity) about how parents and friends deal with learning that someone they've known and loved their entire lives is gay.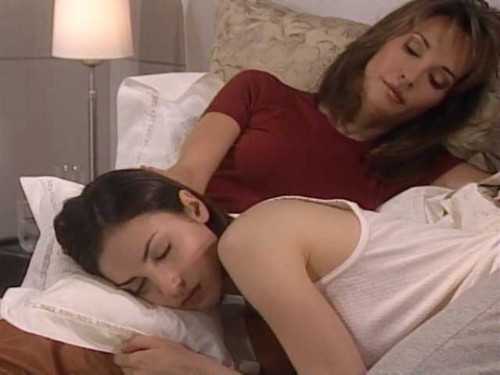 Too bad the same people who wrote and directed that story didn't stay at AMC for the duration, because the Pine Valley lesbian's love life turned into one disaster after another.
Bianca's first girlfriend was Sarah, whom she tells her mom about when she comes home from anorexia treatment. But Sarah's parents make her marry a man. Next is Frankie, who initially pretends to be attracted to Bianca for sinister reasons and then actually falls for her. Frankie gets murdered. Then Frankie's twin Maggie appears and becomes Bianca's BFF, refusing to acknowledge that she's attracted to Binx. When Lena comes along (also initially a criminal) and falls for Bianca (and the two have the First Lesbian Kiss on Daytime TV), Maggie gets jealous.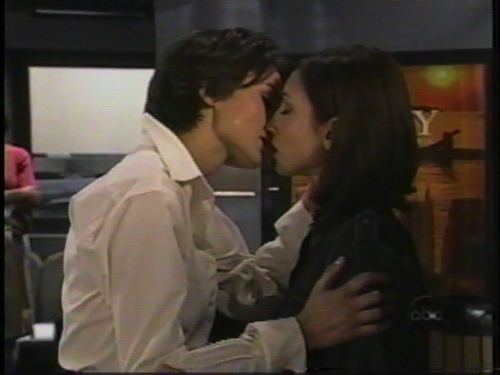 By the time a million other things happen to poor Bianca and Lena returns to her home country of Poland, Maggie is with an abusive boyfriend. Bianca saves her and the two friends move to Paris, where they become a couple.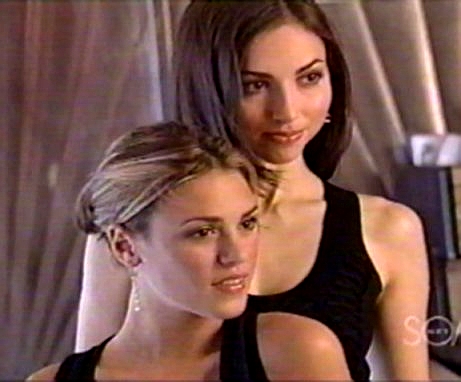 But Maggie cheats and Bianca comes back to Pine Valley alone. Her next interest is Zarf/Zoe, a transgender lesbian rock star. I can't even write about this arc without rage, so suffice it to say that this storyline was when the AMC writers officially lost their minds. The two move to Paris and we are grateful, first because we don't want to watch this abysmal story anymore and second because Paris is where Binx relationships go to die.
Sure enough, Bianca comes back home just as a tornado hits and is found under the rubble – about to give birth. Back home, she has a girlfriend Reese, who's apparently been around for a while (and Kendall's hubby Zach is the sperm donor). Reese comes to PV and she and Bianca have the First Lesbian Wedding on Daytime TV, but the marriage only lasts as long as it takes for Bianca to find out that Reese kissed Zach right before the wedding. The two eventually make up and move to – you guessed it – Paris.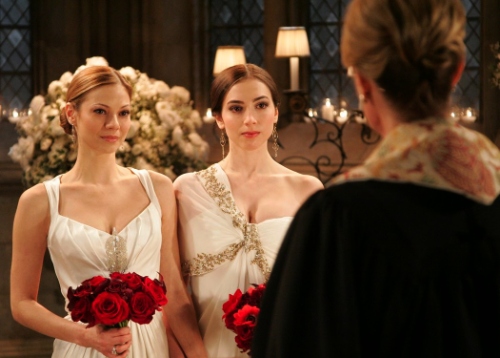 That was the last time we saw Eden Riegel on All My Children. And it was totally Riegel's choice not to return. In an interview with Soap Opera Digest after her new role on The Young and the Restless had been announced, she explained why.
"It was the hardest [gets choked up] … I basically can't talk without crying these days; I think it's a very emotional time in my life to be starting this new chapter and closing one that meant a great deal to me. But it was honestly a very difficult decision. I had tried to make it work with All My Children. I don't have a business head, so I don't really make business decisions; every decision I make is emotional and it was difficult to feel that the show wasn't … that Bianca was getting lost. That who she was was getting lost. I went back several times and they were so lovely to let me come back and play a character I love with the people I love. But the people making the show didn't really understand what Bianca was about anymore. I became worried about that. It troubled me. I got letters from people to whom Bianca meant a great deal essentially saying, 'Please don't come back. We cant take it anymore.' I felt like it was time to keep my memories intact and keep the integrity of the character intact."
And she made this choice despite the fact that she won an Emmy for playing Bianca. Go, Eden.
Of course, things are much different for Bianca right now. With the show nearing the end of its network run, Bianca is in love with a wonderful woman who loves her back and the two seem to be on the road to happily ever after. "NuBianca" Christina Bennett Lind has done an incredible job stepping into an iconic role and making it her own. And Bianca and Marissa (Sarah Glendening) are adorable — and hot.
Whether Bianca would've had a great relationship if AMC hadn't been cancelled is something we'll never know. (Lind did say that she felt like Bianca was "the asexual lesbian" until she and Marissa got together.) But knowing that Eden Riegel cared enough about daytime's favorite lesbian and her fans to refuse to participate in more poorly written storylines is very affirming. It's also very Bianca-like.
Make no mistake: I am a Minx fanatic. I love the Bianca-Marissa love story more than anything else on TV right now. And perhaps a good story for Bianca is a nice way to thank the actress who made us care about her. We love you, Eden. Thanks for loving Bianca – and us.
Leave a Comment
You must be logged in to post a comment.